Over the weekend in Parliament Square, Westminster, London, a crowdfunded blimp of London Mayor Sadiq Khan was flown up in the air, in response to the Donald Trump baby blimp that Sadiq Khan approved to be flown in the sky on the American President's visit to the United Kingdom back in July.
On Saturday, the nine metre (29ft) yellow bikini wearing Sadiq Khan blimp-caricature was taken to the air in protest of the sky rocketing crime figures since he became London's mayor. Additionally, the play on the yellow bikini was down to Sadiq Khan banning the (now infamous) yellow bikini advert from the London Underground in June 2016, citing "there should be no body shaming adverts on the London Underground".
Campaign organiser, Yanny Bruere, a self described free speech advocate, crowdfunded the bikini blimp of Sadiq Khan, and wrote on the funding page in order to raise the money: 
"In light of the 'Baby Trump' balloon being allowed to fly over London during his visit to the UK, let's get a 'Baby Khan' one and see if free speech applies to all and whether or not Mr Khan and the London assembly will also approve this."
"Under Sadiq Khan, we have seen crime sky rocket to unprecedented levels. People in London don't feel safe and they aren't safe, [there have been] 81 murders this year alone!"
The Facebook page for Saturday's event said that 9,000 people were going to show up On the day of the event, it was less than that, but the event still went ahead and many people very much enjoyed the justice served, in both creating and attending such an event in Parliament Square, in order to level the playing field in the name of "freedom of expression."
Let's face it, the United Kingdom's greatest ally is, and always was, the United States, therefore, the Trump baby blimp was seen by many as an embarrassment and a childish action approved by London Mayor Sadiq Khan.
How so? Well, in bringing that disrespect to Donald Trump on his first visit to the UK, as US president, it really said more about Sadiq Khan's own character being more likened to that of a "baby" than it did for Donald Trump, who arrived in the UK on the back of negotiating a peace deal with North Korea, thus neutralising the Korean peninsula from any nuclear threat, as only one example of his many achievements that he's made since becoming US President.
However, somehow as fate would have it, that Trump baby blimp almost immediately sunk to the ground after so much media coverage was given to the Trump baby blimp by the mainstream media in the build up to his arrival… Even though, the blimp actually turned into a massive "dud."
On Saturday, Yanny Bruere said that many people do not feel represented by Sadiq Khan in London: "I think a certain amount of respect should be afforded to the leader of the free world and the greatest ally the UK has – the president of America."
Now, let's hear some of Yanny Bruere's brief words about Saturday's event, which was organised in response against the policies of the London Mayor and as counter action of the Trump baby blimp (which failed) in July on Trump's visit to the UK.
The crowdfunded campaign by Yanny Bruere raised more than £59,000 from nearly 3,500 supporters in only a matter of a few days. Katie Hopkins was an early backer, and Russia Today as well as Fox News were two of the only major news networks giving the event any media coverage. 
The ingenious idea of putting the Sadiq Khan's blimp caricature in a stark yellow bikini, was all down to his move to ban the advertising of seemingly sexy bodies on the underground back in June 2016… Clearly, nice bodies on adverts are way more offensive than rising crime statistics in London, eh?
Sadiq Khan did however take some time out to comment on his bikini blimp in Saturday, as opposed to Trump, who didn't even comment on his. Khan stated, "If people want to spend their Saturday looking at me in a yellow bikini, they're welcome to do so. I don't really think yellow's my colour though."
Fair enough (we think)… Not a bad response from the London Mayor at all, and City Hall granted the protesters to fly his blimp in Parliament Square, which was also a fair result, given how this all began in the first place, don't you think?
An event attendee from East London, said this about the Sadiq Khan bikini blimp: "I think it's very funny. I always expected the crowd to be smaller than the Trump crowds – this is a bit of fun."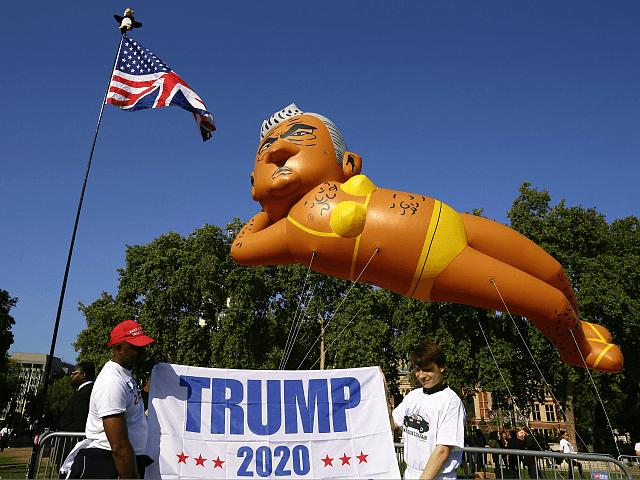 "I think Sadiq Khan has been a terrible mayor for London. I've lived here for 25 years and the feeling of impending crime on the streets has never been worse."
Being a terrible Mayor or not? It is finally nice to see some humble pie arriving at the doorstep of Sadiq Khan, after all the mainstream media coverage in the United Kingdom has been biased in their support for him. Their humongous left wing bias is so apparent, that they paint him as a patron saint of diversity, when in actuality, crime figures suggest that the people in very diverse areas are worse off than ever before, with rising crime, including knife crime, gun crime and homicide reaching unprecedented levels.
Plus, there's a big majority of people whom are not impressed with Sadiq Khan's work, nor his rhetoric, whilst holding position as London Mayor. Isn't it funny how the Sadiq Khan bikini blimp received almost no mainstream media coverage at all?
Story by The Narrator
Featured Photo Credit: AP