OH MY GOD! They killed freedom of speech! You bastards! Not content with opening the flood gates to a wave of undocumented illegal migrants and fostering racial and cultural divides, the European Union have also been busy censoring what it deems to be offensive and unpolitically correct in an effort to dictate what we can and cannot see, using E.U regulated electromagnetic waves to control the very fabric of our minds. 
In this case, preventing our ability to perform abortions in video games… Thanks Merkel!
In 2014, 'South Park: The Stick of Truth' was released and it was a great game, an absolute blinder of a game actually – that's certainly something most reviewers agreed on at the time, with IGN bestowing a 9 / 10 score upon Eric Cartman and his foul-mouthed clan of preadolescent friends who reside in the fictional small town of South Park.
Developed by veteran studio Obsidian Entertainment, responsible for a range of successful adventure titles, and written by South Park creators Matt Stone and Trey Parker, it was easily the most faithful tie-in with the very insensitive animated series.
But even the long running successful TV show could not fight the evil opposing unelected bureaucrats of the Brussel elite, and alas, the citizens of Europe were not able to enjoy butt clenching missions (literally) to avoid being inserted with an alien anal probe.
A total of seven scenes involving abortion and anal probing were removed all together. Ironic, considering the vast amount of sexual assaults and the influx of rape attacks as a result of our friendly neighbourhood migrants integrating into western society nowadays.
But it wasn't just inserting miscellaneous objects into the rectum that caused moral outrage and pandemonium. South Park: The Stick of Truth had actual legit… Nazi Zombies. Like, real bona fide genuine Nazi Zombies who performed the salute and looked every bit the menacing undead force of dictatorship you would come to expect.
Which, if you're a German national, can still be a pretty delicate and awkward subject to tread on.
In fact, as a result of this highly sensitive subject matter, console releases are routinely self-censored for the German market without affecting the rest of the continent; and if this was about the depiction and portrayal of Swastikas and Nazi salutes (which is illegal in Germany under the country's criminal code, Strafgesetzbuch, section 86a) then why were the rest of Europe being deprived of experiencing alien anal probing in the game?
We still did get to fight Khole Kardashian's aborted giant fetus however, which surely has to go down as one of the best moments in video games history next to finding out that Birdo was in fact a transsexual in Super Mario Bros 2.
Looking back, there was no real justifiable reason to remove the interactive versions of anal and abortion jokes, which any vivid South Park fan would know goes way back to the cartoon's inception. The very first episode is, after all, called Cartman Gets an Anal Probe, with the clue literally in the title.
How much more notice did Jean-Claude Juncker and his censorship-happy cronies need to realise that this wasn't the kind of show that you would be sitting down and watching with your granny?
Well, unless your granny likes anal jokes of course, in which case, what a cool granny!
However, the firm grip of the Führer (whoops… we mean strict E.U regulations) did not stop creators Matt Stone and Trey Parker from poking fun at the apparent controversy. Within the game, the cuts were treated with the attitude fans of the series would come to expect. With comically explicit descriptions constructed by Stone and Parker, of what would have happened were  a holder card of the European flag and a face-palming statue to replace those scenes complete, with background elevator music instead.
Though, despite the inside joke, it still left European gamers and South Park fans feeling angered that their intelligence, integrity and sense of humour were being questioned.
Thankfully common sense prevailed, and in 2017, the much-anticipated sequel, the appropriately named South Park: The Fractured but Whole was released to much enthusiasm, scoring an impressive 8.5/10 on IGN.
As for why the game wasn't censored this time around, Ubisoft San Francisco associate producer Kimberly Weigend noted "We really didn't hold anything back with The Fractured But Whole. We worked very closely with Matt and Trey to tell their story – and they obviously don't hold back as well."
Interestingly she added, "It could be a changing of the times, that they're more open to ideas. Maybe they saw the reception to the first game…we're honest not entirely sure why, but we're very happy that everyone's going to get the same experience because that was such a big bummer for the first game, that there were certain things we couldn't show in some countries."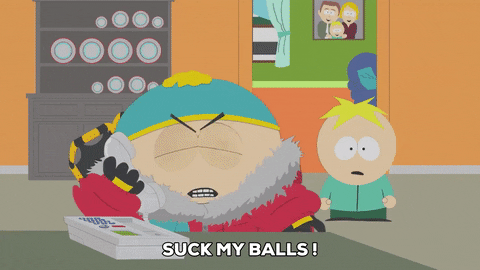 Or maybe it was just because the E.U was in the midst of an internal crisis due to Britain voting for Brexit and the rise of President Donald J. Trump. The political climate was most certainly changing and not in the favour of the liberal politically correct elite any longer.
So, for European gamers and for South Park fans, that meant taking the piss out of gender identity, ridiculing Mexican migrants and erm… having little boys dressed up as crossdressing hookers performing sexually explicit lap dances for intoxicated adult men in a strip club.
This was the outwardly absurd and ridiculously offensive humour that people wanted and they got it all completely uncut and uncircumcised.
Story by Michael Lee
Buy 'The Fractured But Whole' here on Xbox One! 
Buy 'The Fractured But Whole' here on PS4!
Featured Photo Credit: Games Rant