So far, we've had Dove, Nivea, and now H&M in trouble for alleged racism in their advertising campaigns.
The Swedish retailer has recently received criticism for showing a young black child modelling a "coolest monkey in the jungle" hoodie sweater. H&M have now apologised for the advertisement and it has now been taken down.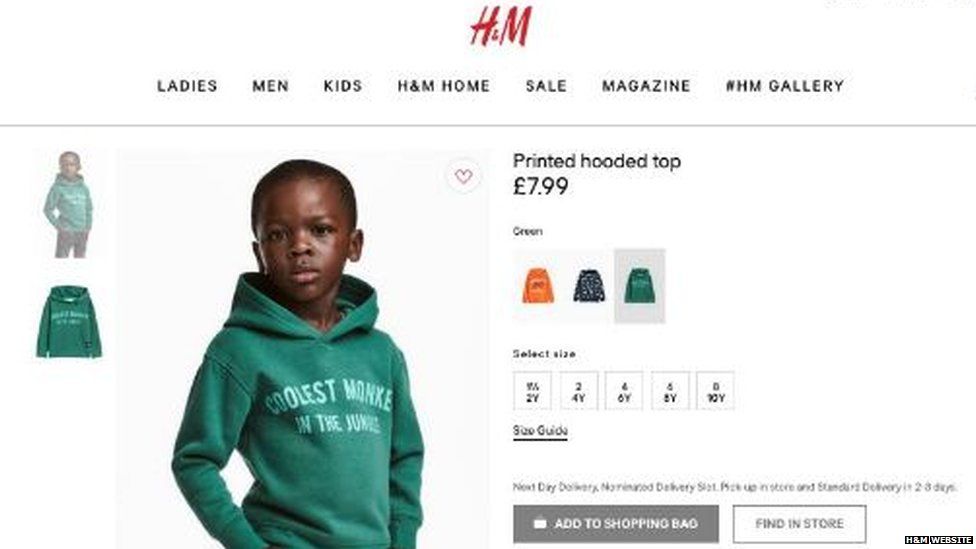 H&M wrote regarding the controversy coupled with an apology over Twitter, stating that they had pulled the product as well as the advert.
Both The Weeknd and rapper G-Eazy have announced that they will be ending their partnership with H&M.
G-Eazy was due to release a clothing line with H&M in March this year, so that won't be happening now. If you wanted a leather jacket in the style of G-Eazy from H&M, then that's not going to be a thing anymore.
Through his post on Instagram, he explains: "I can't allow for my name and brand to be associated with a company that could let this happen."
"I hope that this situation will serve as the wake up call that H&M and other companies need to get on track and become racially and culturally aware, as well as more diverse at every level."
https://www.instagram.com/p/Bdvyi6nnZZD/
Other black celebrities, including rapper and producer Diddy and footballer Romelu Lukaku have also responded to the controversy, by editing slogans of black positivity on the hoodie.
https://www.instagram.com/p/Bdtc4AWHim0/
H&M have not argued their side of the case, and agreed with the criticism the ad received. Speaking to BBC Newsbeat, spokesperson for H&M say they are "deeply sorry" for the incident.
"We completely understand and agree with their reaction to the image. We have got this wrong and we are deeply sorry. We strongly believe that racism and bias in any shape or form, deliberate or accidental, are simply unacceptable. We completely understand the criticism and we agree with it. We will continue the discussion with G-Eazy and The Weeknd separately."
"We have had a good collaboration with The Weeknd for two collections during 2017, but have no current plans for a new collaboration."
Meanwhile, the actual mom of the black child pictured in the hoodie has told people to "stop crying wolf", and that she also "really doesn't understand", nor is bothered by the advertising photo.
We were hoping that stories of controversial ads would die last year, but it looks like they're making an appearance this year too. It's almost as if big brands and corporations are on the payroll to spread some form of racist advertising propaganda test, and then watch the reaction of the general public.
Stay tuned for more incidents of bad advertising, because it's probably going to inevitable at this point.
<Story by Emily Clark>
Featured Photo Credit: H&M