Sex and the City, an iconic staple in popular culture that requires little introduction. Well, unless you are living in Syria and have no access to cable or have never seen an independent, strong-minded woman with high testosterone of course.
The HBO six-season series about the professional, romantic, and social lives of four 30-something women featured strong and empowering protagonists who were candid and explicit about their sex lives and escapades as they sipped on succulent cocktails amongst the fancy décor of a fine dining restaurant set in the glamorous backdrop of the hustle and bustle of New York City.
This was feminism before feminism was high-jacked by Buzzfeed and the very definition of girl power in the late 90's, I mean Spice Girls were still "zig a zig ah'ing" on top of the charts. Who ran the world? Well, in the 1990's it was most definitely the girls. And not the aggressively angry, obese, man-hating, dyed blue haired kind either.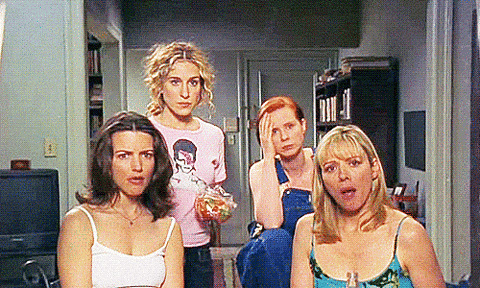 Carrie, Samantha, Miranda and Charlotte, four fabulously elegant and stylish women decked from head to toe in designer and vintage dresses, that could easily be seen on a fashion runaway during Paris fashion week.
Decked in JD Sports knock off tracksuits with strapped back greasy hair while pushing a flimsy buggy perched with a disobedient screaming child probably called "Shaniqua" on a grimy graffiti covered high street is a social situation you wouldn't catch these four elegant and chic ladies in.
They are more Manolo Blahnik than Chicken Cottage, to be honest.
So here at Brainstain we couldn't help but steal a quote from Carrie Bradshaw herself and wonder, what it would look like if you plucked these four dazzling and glittering women out from their usual setting of designer shops and VIP bars and plunge them deep into the unglamorous and disarray surroundings of a multicultural Council Estate, deep in a squalid and overcrowded slum.
Would it be more of a case of crystal meth rather than a Cosmopolitan, as the sound of Carrie's Blue Crystal Embellished Heels click on the grey paved streets of a syringe stained infested ghetto.
Would Burqa wearing Muslim women peer through their cloaked eyes in this Islamic enforced neighbourhood as the sight of Carrie running for a double decker bus in her flowing Versace gown, serve only as a colourful distraction amongst the towering council flats and these grey ridden skies? The natter and whispering of two little old ladies fill the empty aisle of the local super market as Carrie does her weekly grocery shopping with each click of her Jimmy Choo heels echoing past the beeping of the checkout tills, as these clearly bored and weary eyed checkout girls scan the barcode of canned baked beans.
What would Carrie think as she walked on the garbage littered pavement covered in half eaten chicken wings, anxiously dodging tracksuit wearing hoodlums smelling of weed and looking for trouble? The sight of scruffy pregnant 14-year-old girls rummaging through the discount bin looking for half priced baby grows in Primark is such a far cry from the polished and refined sights of Upper Manhattan, wouldn't you say?
Would Carrie find her Mr. Big in the corner Kebab shop where the illegal migrant men prefer their women barefoot, submissive and in the kitchen? Would she find ridiculous, inconvenient, consuming, can't-live-without-each-other love over hummus and greasy chips, endearing? No doubt Miranda would be very cynical of everything and everyone within radius, and with good reason, I mean there is plenty to be cynical about on the dirty streets of London as a Romanian beggar walks past and holds their empty tin can, shaking it ruthlessly in her direction, pleading for loose change and a whole lotta' sympathy.
Can you imagine the unassuming and sweet Charlotte walking aimlessly around these crime ridden streets looking lost and confused at the unfamiliar and unrefined sights around her? Those hooded youths loitering around the local chicken shop are not the most gentlemanly of figures, that's for sure.
Even the sex obsessed Samantha would reconsider her usual liberated and free thinking standards, sleeping in a cockroach ridden bedsit, as that's not something this high flying PR executive would contemplate, while walking past the seedy foreign men wolf whistling and ogling at the hypnotizing sight of her white bouncing breasts.
And as Carrie, Samantha, Miranda and Charlotte nibble on greasy halal processed chicken perched on the local park bench with the sound of Police sirens in the faded distance, Carrie couldn't help but wonder, Toto we're not in New York any more.
What do you envision this alternative reality to look like? Do you think it would be more Burqa than Prada, or maybe some kind of multicultural parallel universe in which different cultures, races and classes live harmoniously side by side in a unified utopia?
Yeah, we think Jeremy Corbyn has been smoking again.
Story by Michael Lee
Buy the complete Sex in the City Box Set here!
Featured Photo Credit – HBO