So, what happened this weekend in the Twittersphere? Well quite a lot as usual, but the pick of the bunch is surely actor James Woods' tweet in response to CNN's Anderson Cooper's eye roll, when he was speaking to Kellyanne Conway (first female President) live on air on Friday.
Anderson Cooper is of course CNN's very own A.I. (Artificial Intelligence) teleprompt reader and the liberal equivalent to the Pope or some sort of "Messiah" or something, in some very-very liberal circles.  So, what did James Woods tweet out on Friday after seeing Anderson Cooper roll his eyes at the very clever and highly revered Kellyanne Conway? Let's see it now.
Bravo! But of course, when protecting the honour of Kellyanne Conway, whilst servicing a thinly veiled joke at the expense of Anderson Cooper's behaviour, resulted in what you would expect, a barrage of backlash tweet responses came in accusing James Woods' of being homophobic. Would we expect anything less? No, this is exactly what we would expect from the Twittersphere lefties, but we have to say that finally someone serviced the so-called "Silverfox" Cooper with some of his own medicine. Just look at it! #andersoncoopereyeroll is so trending right now!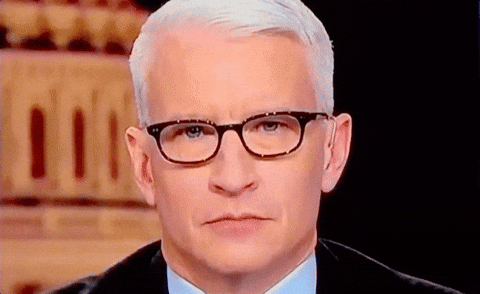 There was nothing subtle about the eye roll and it's pretty rude to roll your eyes at the magnificent Kellyanne Conway during a live broadcast and it shows a lack of respect for the superlady, don't you think? So, we think that James Woods' tweet in her support is totally justified, with or without the butt plug reference. Of course, the news segment interview from Anderson Cooper was grilling Kellyanne Conway about Donald Trump's decision to fire former FBI Director James Comey, since anything that Trump does, CNN and the Democrats (Demofascists) will try to find out a way to make it into some sort of scandal, where there isn't one.
Perhaps, the real scandal is how in the hell Hillary Clinton has not been locked up yet? Or an even bigger scandal is the fact that some people still watch CNN. Interesting indeed.
CNN which has become known as the Clinton News Network in recent times, plus also the epitome of "Fake News" and not to mention that the network has become about as newsworthy as a Hollywood film script narrative about Russia, that Cooper continually reads off of a screen, with his 360 degrees of democratic separation and segregation from any form of logic or reality.
When "Fake News" is inducted into the Oxford Dictionary, if you flip open to that page, there will most definitely be a picture of Anderson Cooper.
"So the real James Woods is a homophobe. Good to know" tweeted a shocked Twitter user.
James Woods protected his tweet on Saturday, saying: 'The scariest thing for #liberals when they have a hissy fit is that moment when nobody cares. For the record I couldn't care less…"
So, what was so wrong about James Woods's tweet? We chuckled and he definitely has a point, as this could be the reason for the eye roll, couldn't it? However, left-wing liberal social justice warriors on Twitter, have now called James Woods out as being "Anti-Gay" or even gone as far as calling him a "homophobe". How original!
Perhaps, James Woods could just say that his Twitter account was hacked by Vladimir Putin and the Russians, right? That would explain a lot and it would surely placate all these liberal lefties with something that only they understand. Just blame Russia, since, how many times have we actually heard that by now?!
As we have seen in the past, the liberal lefties can't take a joke and this is yet more proof of that. Sure, James Woods's tweet was a form of humour that bordered on the clever to crude, but surely if Anderson Cooper doesn't laugh, perhaps he shouldn't roll his eyes like that?
Anderson Cooper hasn't officially replied but surely this will make him think twice before rolling his eyes at Kellyanne Conway in the future. Well played "Woods, James Woods."
Oh and by the way, we're not homophobic here at Brainstain and we won't ever use trivial topics like sexual orientation, race and gender to try a mould a narrative into whatever it is that we wish to do, like in CNN's case, they always try to use all the social justice warrior elements to try and attack anything that even remotely supports Donald J. Trump, in some way.
Like millions of people across the whole world, we stopped watching CNN a very long time ago, because as everyone knows, they are "Fake News" and we're absolutely sure that you can definitely get even more accurate news from let's say, hmmm…"Dr. Phil" of all people. So with that in mind, we finish with a message to CNN….
"Cash us ousside. How bow dat!"
Brainstain, over and out!
Featured Photo Credit: TheGatewayPundit