Women are no longer divas in the WWE, they are fully fledged superstars. Do you hear that you condescending and misogynistic jerks!? Women are wrestlers!
They no longer compete in mud baths whilst scantily clad in stringy underwear for your amusement. They no longer compete in beauty pageants or dance competitions and they most certainly no longer dress up as school girls with big breasts for your perverted pleasure.
They are no longer filler matches or an excuse to do a number 2, they are the main event. Both female and male superstars are now booked as equals in WWE, and feminists everywhere are not shaving their armpits in triumphant victory.
Each year the folks at 2K Games release their annual WWE game and this year is no exception. The female superstars of the WWE have taken great strides since the release of WWE 2K17, from the history making main event "Hell in a Cell" between long-time enemies Sasha Banks and Charlotte Flair, to the rise of 5ft feet of fury Alexia Bliss.
With WWE 2K18 expected to be released near the beginning of October, we take a look at 10 reasons why WWE 2K18 is set to be the ultimate feminist wrestling game.
And, there's you thinking that Brainstain was completely and utterly sexist, guess again!
1 – With Jerry "The King" Lawler no longer on commentating duties on WWE programming, it's highly likely we won't be hearing how "hot" Eva Marie is with his usual sexual innuendos towards the women athletes of the WWE. That high pitch squeal of "puppies" truly belongs dead and buried in the archives of the Attitude era. Women actually wrestle, now you know Jerry!
2 – Speaking of women superstars, in WWE 2K18 that's how they will be represented now, as the bona fide and legitimate main eventers that they are. All traces of the term "Diva" should be erased and eradicated from the new instalment of the WWE 2K franchise. The only "diva" around here should be Beyoncé, anyway.
3 – This will be the official debut of the WWE "SmackDown" Women's Championship. Not an oversized "Create a Championship Belt'' community downloaded version, but the authentic and appropriately sized real deal, that actually fits around the women superstars waist and doesn't drown them into oblivion.
4 – As a recent inductee of the 2017 WWE Hall of Fame, Beth Phoenix is certain for a spot in the WWE 2K18 roster joining the likes of Alundra Blaze and Jacqueline before her. Though we do think that her induction was maybe a little bit too premature it will be good to play as the muscled beauty in the game.
5 – But of course, the Glamazon will need opponents for her 'Hall of Fame' Showcase. Expect to potentially see Michelle McCool, Layla, Kelly Kelly and Eve as suitable challengers to the 3x WWE Women's Champion. And no, Santino Marella doesn't count.
6 – Speaking of legendary female athletes, expect to see the returning Mickie James as part of the WWE 2K18 women's roster too.  We just dig those shiny flaires!
7 – WWE 2K17 had an oversized stacked roster, more than any of its predecessors with 23 slots for the women superstars alone, compared to the lousy 4–8 female spots normally reserved for a wrestling game. It was a show of the times that the women's revolution was taking over and WWE 2K18 looks set to continue that evolution. Expect that number to increase with the likes of Ember Moon, Liv Morgan, Billie Kay, Nikki Cross, Ruby Riot, Peyton Royce and Aliyah making their debut in the next instalment.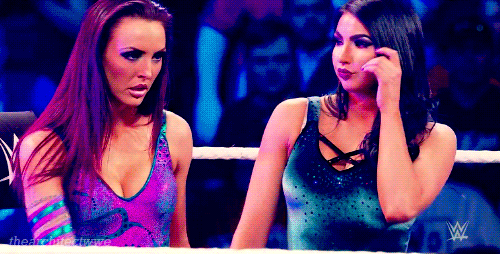 8 – Even though she made her wrestling debut on the grandest stage of all in 2016, Lana was still relegated to managerial duties on 2k17. With her recent move onto the "SmackDown" brand as part of the "Superstar Shakeup" as an active superstar in her own right, let's hope we finally get to play as the Ravishing Russian in the ring.
9 – No entrance has ever made quite the impression as Naomi's "Feel the Glow" extravaganza. In 2k17, she was still "unified" with Team B.A.D and playing the part of the bad girl "snatching girls bald", but with 2K18 on the horizon, we should see the debut of the 2x SmackDown Women's Champions' neon glow in the dark spectacle. Now can you feel the glow?
10 – Maryse is another WWE alumni that made her return in 2016, but missed the cut off point for inclusion in the 2k17. One half of the "must see it couple" and former x2 Divas Champion made her return to the squared circle at this year's Wrestlemania in a mixed tag match with her husband 'The Miz' and newly engaged "Total Divas" couple, John Cena and Nikki Bella. Expect to see the "French Phenom" on the roster selection in WWE 2K18.
WWE 2K18 will truly be the first time gamers can be experience the "Women's Revolution" digitally, so get ready to play with them all, this October!
Are you looking forward to WWE 2K18? What female empowerment qualities are you most looking forward to in the game? Let us know in the comments section.
And remember, any sexist comments will get body slammed into a pit of angry feminists. Now can you dig that… SUCKAS!
Story by Michael Lee
Buy WWE 2k17 Game Here – Xbox
Buy WWE 2k17 Game Here – PS4
Featured Photo Credit: i.ytimg